What the Bible Says about
Walking in Light



Walk in Light
Ephesians 5:8-14


8 "For you were once darkness, but now you are light in the Lord. Walk as children of light 9 (for the fruit of the Spirit is in all goodness, righteousness, and truth), 10 finding out what is acceptable to the Lord. 11 And have no fellowship with the unfruitful works of darkness, but rather expose them. 12 For it is shameful even to speak of those things which are done by them in secret. 13 But all things that are exposed are made manifest by the light, for whatever makes manifest is light. 14 Therefore He says:"
" Awake, you who sleep, Arise from the dead, And Christ will give you light."
Christian Book
Dear Savitrie
Biblical Answers to your Problems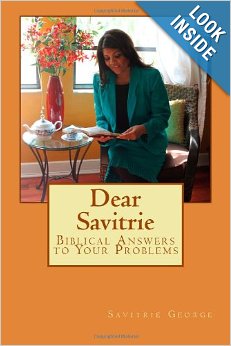 $9.99
Savitrie gives you the Biblical answers to questions such as burning the Koran, Barack Obama, astrology, psychics, abortion, the morning after pill, gay marriage, Harry Potter, white lies, divorce, baptism, war...