Reuben Archer Torrey
What would Jesus do

"If at any time you are in any perplexity as to what to do, simply ask the question, What would Jesus do? Ask God by His Holy Spirit to show you what Jesus would do. Study your Bible to find out what Jesus did do, and follow Him. Even though no one else seems to be following Jesus, be sure that you follow Him. Do not spend your time or thought in criticizing others because they do not follow Jesus. See that you follow Him yourself. When you are wasting your time criticizing others for not following Jesus, Jesus is always saying to you, "What is that to you? You must follow me" (John 21:22). The question for you is not what following Jesus may involve for other people. The question is, What does following Jesus mean for you?"
Compiled by Thomas George
editor@Preach-the-Gospel.com
Dear Savitrie
Biblical Answers to your Problems
The Book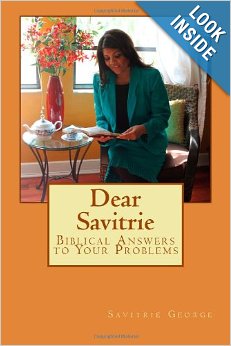 $9.99
Savitrie gives you the Biblical answers to questions such as burning the Koran, Barack Obama, astrology, psychics, abortion, the morning after pill, gay marriage, Harry Potter, white lies, divorce, baptism, war...