Theodore Epp
God Hates Sin! Do We?



Romans 1:18-25
There must be no misunderstanding of what God's wrath is. It should never be confused with man's wrath, which is sinful.
God's wrath is not a sudden fit of temper; neither is it a desire for revenge. These things are sin, and we cannot attribute sin to God.
God's wrath is a fixed attitude of opposition toward all unrighteousness. This attitude never changes. It will culminate in righteous judgment on all who finally and completely reject God's offer of love.
God abhors sin, but He loves the sinner. This was clearly manifested when He made a way for the sinner to escape the consequences of sin and provided such a wonderful salvation in Christ.
God's attitude toward the sinner is seen in such passages as John 3:16: "God so loved the world, that he gave his only begotten Son."
His attitude toward sin, however, is entirely different. Sin is of the Devil, and God in His wrath is against it. He will never tolerate it, regardless of the circumstances.
If a sinner continues in sin, refusing to accept God's gift of eternal life, then God's unchanging attitude of wrath toward sin will be revealed against the sinner.
This is the truth stated in John 3:36: "He that believeth on the Son hath everlasting life: and he that believeth not the Son shall not see life; but the wrath of God [His unchangeable attitude against sin] abideth on him."
In other words, when the sinner clings to his sin and refuses God's offer of mercy, then sin and the sinner are one so far as the wrath of God is concerned.
"This then is the message which we have heard of him, and declare unto you, that God is light, and in him is no darkness at all" (1 John 1:5).
Dear Savitrie
Biblical Answers to your Problems
The Book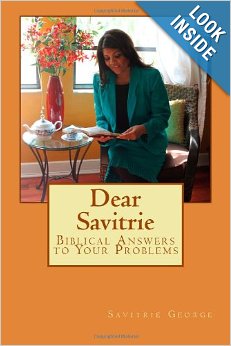 $9.99
Savitrie gives you the Biblical answers to questions such as burning the Koran, Barack Obama, astrology, psychics, abortion, the morning after pill, gay marriage, Harry Potter, white lies, divorce, baptism, war...