Chuck Swindoll
Evidences of Christian Life

I am in Christ. I live in Him and He lives in me.
I live in Him and He lives in me.
I know the relief of being cleansed from personal sins.
I am able to live above sin's dominating control.
I have immediate access to the Father through prayer.
I can understand the Scriptures.
I am able to forgive--and should forgive--whoever wrongs me.
I have the capacity to bear fruit, daily, continually, routinely.
I possess at least one (sometimes more than one) spiritual gift.
I worship with joy and with purpose.
I find the church vital, not routine or boring.
I have a faith to share with others.
I love and need other people.
I look forward to having close fellowship with fellow Christians.
I am able to obey the teaching of the Word of God.
I continue to learn and grow toward maturity.
I can endure suffering and hardship without losing heart.
I depend and trust in my Lord for daily strength and provisions.
I can know God's will.
I live in anticipation of Christ's return.
I have the assurance of heaven after I die.
Dear Savitrie
Biblical Answers to your Problems
The Book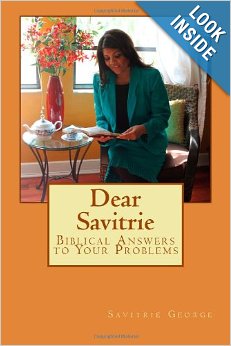 $9.99
Savitrie gives you the Biblical answers to questions such as burning the Koran, Barack Obama, astrology, psychics, abortion, the morning after pill, gay marriage, Harry Potter, white lies, divorce, baptism, war...